Capello criticises laser pen use at Wales-England match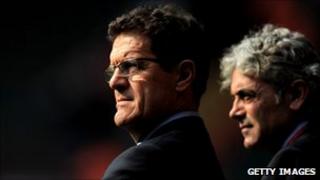 England boss Fabio Capello has criticised fans for shining laser pens at players during the Wales-England match at the Millennium Stadium.
Football association staff are in discussions over use of the torches during Saturday's Euro 2012 qualifier, which England won 2-0.
Capello urged football's authorities to track down fans who were shining them in the eyes of players.
But the FA in England says it will not be lodging an official complaint.
It was reported that a laser was shone at England player Jack Wilshere as he left the field while being substituted.
The Football Association of Wales said it was in dialogue with its English counterparts over the incident, but both the Millennium Stadium and English Football Association have confirmed that no official complaint has been made.
Capello said he noticed it as he was replacing Scott Parker with Phil Jagielka in the last minutes of the game and he felt something needed to be done.
"It was a silly thing," he said.
"When we changed Scott Parker I saw it but not before.
"It is not good. You need to find these people who are coming to the game with a laser. It is not sporting."
Adrian Bevington, managing director of the team's strategy arm Club England, told BBC Wales: "I saw it more noticeably (on Saturday) than I have at any other game.
"I know it does happen from time to time and has done for several years both in England and Europe.
"Thankfully it's a mindless few idiots who actually conduct themselves this way and I'm sure that whatever the venues are, that they will be trawling through to see if they can identify and isolate these people, but it's not easy."