Japan supply chain break down to hurt global production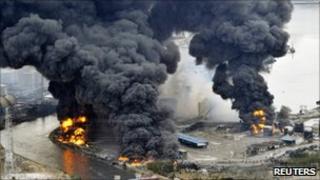 Two weeks after the devastating earthquake and tsunami struck the north-east coast of Japan, the aftershocks are being felt by the global manufacturing industry.
As the world's attention hovers on developments at the Fukushima Daiichi nuclear plant, problems with Japan's framework seem to have taken a back seat.
The extensive damage caused to Japan's infrastructure has seen problems arise with supply chains, not just within the country but also globally.
And analysts warn that things are going to get worse for manufacturers in the immediate future.
Parts scarcity
Japan is a big supplier of key parts used in industries ranging from car manufacturing to consumer electronics and data processing.
A shortfall in supply of parts has already seen some of Japan's biggest companies, including carmakers and electronics manufacturers, shut down production at their factories.
It has also started to have a global impact, with Toyota Motors saying that it will curb its North American production due to parts scarcity.
General Motors has also announced suspension of production at one its plants in the US, blaming parts shortages.
"Manufacturers are currently using up the inventories that they may have in stock before the quake struck," said Rajiv Biswas of IHS Global Insight.
Mr Biswas added that companies could also fall back on supplies that may have been in transit over the past few weeks and are in the process of being delivered to them.
However, once that stock is used, things will get complicated, he pointed out.
"The problem will come in the middle of April when companies run out of inventories and supplies," he said.
Silicon problems
Car manufacturing is not the only sector that is suffering from the breakdown of the supply chain.
Japan accounts for some 60% of the global silicon wafer supply. These are used in the manufacture of integrated circuits and other micro devices.
These circuits and devices are key parts used to make a wide range of electronic equipment.
Some of the biggest silicon manufacturing units in Japan have been damaged by the earthquake and tsunami.
Analysts say that a shortfall in the supply of these materials may have serious consequences for global manufacturers.
There is a very high chance that silicon wafers being marketed by non-Japanese companies may have actually been sourced from Japanese manufacturers, he said.
"Disclosure is not complete in this area," said Mr Fingleton.
"It is often not possible to tell where the product is being manufactured or sourced from."
Manufacturers can always look for alternative sources of supply in times of crisis, according to Eamonn Fingleton, an economics author from Tokyo, though this might not be as easy as it sounds.
Alternative suppliers might also be facing shortfalls, making it difficult for the manufacturers to find supplies elsewhere.
Road bumps
To make matters worse, getting the supply chain up and running like before is dependent on too many external factors.
Getting their factories up to speed is the only bit that Japanese manufacturers control.
They have to wait and hope that the rest of the infrastructure repair takes place quickly.
First and foremost, there needs to be an uninterrupted supply of electricity provided.
This may take some time as the Tokyo Electric Power Company (Tepco) has lost some of its power supply because of the damage caused at the Fukushima Daiichi nuclear plant.
It has to start generating power in other ways to replenish the loss before its supply can return to pre-quake levels.
Till that happens, some specific industries will find it difficult to operate at optimum levels.
"You can't just switch off and on the power supply if you are manufacturing high-tech products like silicon wafers," said Mr Biswas.
"The key question is, will they be able to restore back power quickly enough?"
Getting manufacturing up to speed is one part. How quickly the damaged rail and road network are repaired will also determine the pace of recovery.
Japanese and global manufacturers are not overly worried, however, as the rebuilding is likely to be quick given Japan's track record.
"There is the short term issue of logistics within Japan," said Mr Fingleton.
"The Japanese authorities are moving heaven and earth to get everything up and running."