New Zealand government picks up the pieces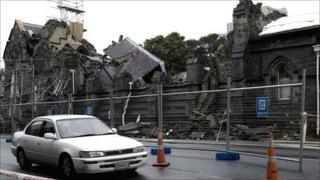 Authorities in New Zealand believe it could take at least 10 years to rebuild the quake-damaged city of Christchurch.
Over 180 people were left dead and thousands homeless when a 6.3-magnitude tremor rocked the city and surrounding Canterbury province four weeks ago.
With a population of 380,000, Christchurch is New Zealand's second largest city - a popular visitor gateway to the scenic South Island.
The 22 February quake was the second to hit the region in five months.
It caused widespread damage to homes and infrastructure, and reduced shops and businesses in the central business district (CBD) to rubble.
Cordoned off
Local business leaders say the final repair bill from the February disaster could top US$22bn (£13.5bn).
Most of the money will come from insurance. But the New Zealand government has estimated it will need around $3.5bn to cover the uninsured cost of rebuilding.
The government will raise this money through loans or cuts to government spending.
A tight cordon remains in force around most of central Christchurch.
Once packed with shoppers and office workers, the CBD is now empty and off-limits - indefinitely.
The heart of this popular tourist town has been re-named Red Zone - a dangerous no-go area guarded by army and police.
Inside, a number of bodies are still trapped in the mountain of debris.
Packing up
As the city continues to grieve for the 182 lives lost in the disaster, some groups are losing patience with the civil defence.
Authorities say it will be weeks before business owners can return, and months before the wreckage is cleared.
Earlier this week a group of angry retailers stormed the cordon to protest against unauthorised demolitions, and a lack of access to their shops and buildings.
They say they'll soon have to close, or lay off staff, if they can't recover stock and relocate.
In response, the government has announced a $5m economic recovery plan to help businesses get back on their feet.
The package includes money for exporters to visit overseas clients, a trust fund for struggling business owners, and more finance for workshops and business training.
But that may be too late for dozens of retailers in Sydenham, one of Christchurch's oldest suburbs. They say they are already packing up and leaving the area for good.
Only option
Beyond the CBD, many neighbourhoods are still struggling to cope.
Thousands of homes are relying on portable or chemical toilets, and some homes still have no running water.
Up to 10,000 homes will have to be demolished and 100,000 are expected to need repairs.
Many residents throughout the region are determined to stay and rebuild, rather than move to other towns and centres.
They say the disaster presents an opportunity for Christchurch to reinvent itself as a cutting edge city of the future.
Others have had enough of the daily aftershocks, the stress and the uncertainty.
Thousands have already left Christchurch, saying they will never return.
But with falling property values, many homeowners feel their only option is to stay.
The banking sector expects to be hit hard through credit losses.
A Radio New Zealand report says the Bank of New Zealand could lose up to $220m as Canterbury firms shut their doors permanently.
Last week, Westpac New Zealand predicted losses of $20m-70m.
Record deficit
The Christchurch earthquake may have knocked back New Zealand's economic growth, but the government predicts a silver lining in 2012 as rebuilding gets underway.
A Treasury spokesman says the recovery will bring "a sizeable boost to residential, commercial and infrastructure investment, placing upward pressure on prices, depending on the rate of rebuilding."
Meanwhile, the government will face the biggest budget deficit in New Zealand's history at the end of the current financial year.
Finance Minister Bill English says there's a real need to cut budget spending, because the Government is going to have to pay back money borrowed to rebuild Christchurch.
"We made it clear that we would be borrowing money to pay those bills," Mr English said. "We are taking on more debt - we have to.
"The government is in the middle of spending a couple of hundred million dollars right now, over this four to six week period, just on income support for 56,000 people in Christchurch."
Mr English said that at the same time, the government had to lay out a path that would lead to a return to surplus in 2014/15.
"We are looking at running a budget deficit of 8-9% of [gross domestic product], which is the largest budget deficit run by a New Zealand government."