Indonesia's economy grows at fastest rate since 2004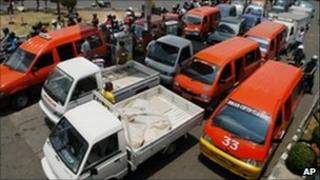 Indonesia's economy grew at its fastest annual rate for six years in 2010, driven by consumer spending and investment.
Gross domestic product was 6.1% higher in 2010 than in the previous year, the statistical office said.
Growth was given an unexpected boost in the final three months of the year, figures showed.
Analysts said the speed of growth may lift inflation at a time when high food prices were already hurting consumers.
Last week the central bank raised interest rates for the first time in two years in an attempt to slow price growth.
Indonesia's main cost of borrowing rose a quarter of a percentage point to 6.75%.
Higher rates?
Analysts said that the better-than-expected GDP figures may increase calls for interest rates to rise further in coming months, not least because they also expect economic growth to continue.
Helping drive growth will be steady consumer spending and companies investing in their businesses to fund expansion.
"Growth in first quarter this year will be positive amid soaring inflation as many companies will spend capital for investment purposes," said Eric Sugandi, an economist at Standard Chartered Bank.