Egypt protests day 5: Your stories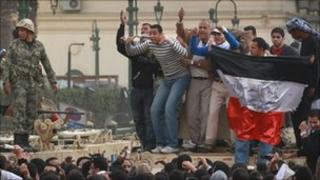 Anti-government protests in Egypt have continued for a fifth day. Tens of thousands have taken part in the demonstrations in Cairo, Suez, Alexandria and other cities.
Health officials say 45 people have died in clashes across Egypt since Friday.
Here, BBC website readers in Egypt describe what life is like in the midst of the unrest.
Resident, Arab Island street, Cairo
"I live in the Arab League Place in Arab Island street. We saw young people come to our street using motorcycles and other means of transport. They destroyed the shops in the buildings opposite to ours and robbed its contents of furniture and computers and loaded it on cars. They did the same thing to the shops at our building and the one next to us.
We also saw fire coming from the Saudia Air office, then they brought out a safe and gathered around it.
There are no security forces in the street, and I called the fire brigade but no one answered the phone. We spoke to a senior police officer and he told us that they were given strict orders to pull out.
They want the police to pull out so they'll say that 'these are the people who are uprising and protesting, and that Egyptians are thieves.' But the protests in the morning were different and they aren't the thugs and thieves who were carrying knives and swords whom we saw at night.
My granddaughter had to leave her home because of looting and smashing of shops and setting fire to them, but the fire brigade came and put it out.
We have no protection at all, there are no security forces now, while they were all over the place in the morning. There are also no army troops in the area, I don't know if the army is conspiring with them or not.
We felt happy when the army tanks passed by our building, but they kept going without doing a thing. I thought of going down to the street to call them back and ask them to help us and protect us."
Eddie, Cairo
"The real problem now is the looting which is getting completely out of control. The looters have taken to the streets.
According to one rumour I heard, looters have even started knocking at people's doors and holding them up on the doorstep. A large portion of the population have so little that now anyone with a house or a car is seen as the enemy.
I am afraid that this situation will get out of control really quickly. Everyone is in a complete state of panic. The government needs to send the authorities in to take control of this situation.
I am now in a suburb of Cairo at home with my parents. I moved from my apartment downtown to here, to avoid the looting.
This is so uncommon in Cairo. People have started drawing all the money they can from ATMs. You can't get in to the supermarkets because people are stocking up on food.
I have never seen anything like this in my entire life."
Kevin, Kitkat
"I'm in an area called Kitkat. At the moment it seems to be fine, the protests are good natured but the concern is that it will deteriorate.
I live on a houseboat and we we are worried about fire because the boats are made of wood and there are a lot of trees along the Corniche. At the moment the local police station is apparently on fire, which is across the road from us.
We are just all waiting for the curfew at four o'clock, waiting to see what happens, whether there may be running battles. The other thing is that the police have all disappeared. Yesterday there were police in front of my boat and a lot of running battles in the street. Things were burnt quite badly. But now there's no police, so what that means I don't know, it might be a good thing or not.
I've been speaking to friends in central Cairo. They're saying it's much better today.
I was down there yesterday and although there was a good feeling among protesters, there were a lot of attacks by the police and we got tear gassed by the police and it was quite dangerous.
Today there's a good feeling, everybody's chanting, the police aren't that much in evidence. My friend tells me the army are giving people rides on their tanks, but there was a certain amount of looting last night.
I'm going to stay where I am, see what happens this evening, and take it from there. It's a minute by minute situation. We'll have to see whether the president steps down or whatever."
Callum McKinnell, staying outside Cairo
"I'm not in a trouble spot, as I'm staying nearer the 6th of October (city). We've been told to stay in our hotel however, and I can't carry out the work I am supposed to - updating telecoms systems - because I have to do the work at night and there is a curfew.
You can feel the tension in the air at the hotel. Last night you could see worried faces and the usual staff weren't about. I think they cobbled together any staff they could to get in here. We heard from the hotel employees that there has been mass looting in Cairo - Carrefour and Vodafone shops have been affected.
Although telecoms systems are being returned to normal today, I wouldn't be surprised if they go down again this evening, although it may only be Egyptian mobiles which are affected as they will be able to distinguish between Egyptian and foreign-originated phones.
I don't think the government wants the world to know the troubles here - they are probably attempting to stop people sending moving media of protests on mobile phones."