Wikipedia: Your thoughts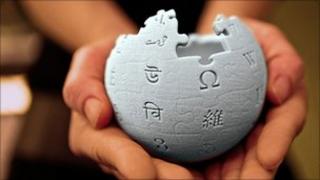 Wikipedia celebrates its tenth birthday on Saturday 15 January, but the online encyclopaedia is still too complicated for many people to edit, its founder has said.
Jimmy Wales told BBC News the site wants a new generation of contributors, including more women.
BBC News website readers have been sharing their thoughts on the world's fifth most popular site.
Your comments
Simply brilliant. If I need to find out anything, I usually do a Google search and add "wiki" as part of the search criteria. I have learnt so much with the help of articles placed on Wikipedia. I have only used it to read though. I wouldn't know where to start in writing information. The interface for that is a bit too nerdy for most. Geoffrey, Swansea, Wales
The problem with Wikipedia is that many of its entries, especially for personalities have become little more than fan sites and are no longer objective. Reading many of the entries, you'd think they were written by publicists. David, London, UK
I use Wikipedia nearly every day. It is the one of the most useful websites on the internet because of the breadth of content. However, on more than one occasion I have found a lack of information in an area which I have some knowledge and ability to contribute to, yet upon clicking "edit" I have always abandoned the notion that I can contribute because of the complexity of the process. I do not have much knowledge in computer language, and I find editing Wikipedia intimidating. That said, I think it would be a great move to simplify the process, and make it more layman-friendly. Danielle, Oklahoma, US
I frequently use it to research a field or even a word I know nothing about. I also use it for travel to find out about a town or district. I also use the articles on medical areas and legal topics. Wikipedia is one of the best sites on the internet. Patricia, California, US
I am a regular user for all things literary, the arts and famous people. I have never edited anything but now I will have a go because I am a 50-year-old woman and perhaps wiser now. I think it is a fabulous site and expands the brain into search areas which can be incredibly detailed - I call it layering! Thank you to all who support and contribute to this worthy site. Carolyn, Ballyconnell, Ireland
I use Wikipedia frequently when reading about musicians and their discographies. The best thing about the encyclopaedia is that anyone can contribute to it. The negative side of Wikipedia is the daunting interface and rigid grammatical structures. Some of the information on Wikipedia is incorrect. It is a complicated procedure to submit your own corrections. Wikipedia will evolve over time and it might become user friendly to the grammatically challenged readers like me. Mark, North Carolina, US
I use Wikipedia all the time, it's great for concise information. Thanks to all who contribute. Susan, California, US
I am a regular Wikipedia user. I use this site for my research and also to gain some general knowledge. The online encyclopaedia is a good resource. Navanithan, Ipoh, Malaysia
I think the encyclopaedia is regulated by a bunch of culturally biased busybodies patrolling its content. They disallow practically anything you put on it which puts users off from using it. Eddy, Manchester, UK
Listen to the World Service's documentary on Wikipedia at 10