Seasonal flu: Your experiences of the virus and vaccination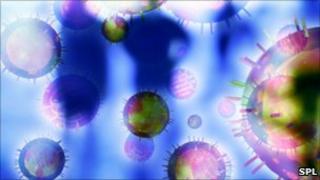 There are signs the number of new infections of influenza are beginning to level off, according to government officials.
The announcement was made amid reports that GPs in some parts of the country were running out of vaccines.
The death toll in the flu outbreak has climbed by 11 in the past week to reach 50 across the UK.
BBC News website readers have been sending in their experiences of flu.
Duncan Mann, Nailsworth, Gloucestershire
I am a practice manager for a rural GP practice in Gloucestershire.
We spent much of the autumn trying to get patients to come into the surgery for the vaccine. In previous years there has been a high profile vaccination campaign, and people had been queuing at the door, but the campaign was scrapped this year by the Department of Health.
It's because of our own efforts that we used all our stock of vaccines.
GPs are responsible for ordering and purchasing the vaccines, so they risk losing money if vaccines aren't used, so we try to get as high an uptake as possible.
Now in January there is a lot of media interest, people are getting anxious and are approaching us for vaccinations - but there are none left, our suppliers simply don't have stock.
We managed to purchase a very small supply from another practice to meet our immediate needs - but there are no sources to replenish this stock.
It is very frustrating to hear the Department of Health saying there is plenty of vaccine available. If there is, then it's not in our supply chain.
Keith Buckney, New Ferry, Wirral
In June last year, totally out of the blue I caught what I thought was a really bad chest infection. I thought it had gone, but the next thing I knew I was coughing up blood and was taken to hospital with pneumonia which then also developed into pleurisy.
I went to the GP periodically afterwards, but nothing was ever mentioned about a flu vaccination.
On New Year's Eve I went to an NHS walk-in centre. I told the nurse I'd had pneumonia and pleurisy in the summer.
She was really shocked to hear I hadn't had the vaccination, as she said I would definitely be in the "at-risk" category.
I phoned my GP the first day I could and the receptionist told me I wasn't on their list to be called for a vaccination. I was also told that the practice had run out of vaccine due to "manufacturing problems" and that I should call back the following day to see if the practice could locate some.
They also said if I could locate the vaccination somewhere and reserve it they could then deal with it. My wife is registered with a different GP, so she contacted her surgery and the receptionist told her that they did have plenty of the flu vaccine but they don't give it out to other GP practices.
They said instead that I could go to the local supermarket and buy it there. I was really shocked. If the NHS can't get it why can supermarkets?
I'm now frightened to go out of the house in case anything happens and I catch the flu before I've been vaccinated.
Kate Edwards, Maidstone, Kent
I always thought flu was nothing more than a cold but oh, how wrong I was. I have never ever experienced anything like it. I fell ill with my cold on 18 December. That night my body shut down and the paramedics came out.
I had pins and needles and couldn't feel my stomach, hands or legs and I had cramps all over. I had been violently sick, my head was pounding and my temperature was raging yet I was frozen.
I was told to rest but I have two children under five. My husband has just started a new job in London and was worried about taking time off and losing money so I was alone with the children trying to rest.
The flu got worse and worse until it got to the point where I hadn't eaten in five days as I was so violently sick.
Things came to a head on the 23 December when a friend turned up at the door and my son let her in. She found me lying unconscious on the floor.
Paramedics later told me they thought I had the winter vomiting virus and a flu infection - I was too contagious to be taken into hospital.
Apparently all they could do for me in hospital would be put me on a drip and help me to eat, so I was advised to stay at home, go to bed and rest.
I was given antibiotics, penicillin, ibuprofen and paracetamol. By 29 December I was back in the land of the living although very weak. I had lost one and half stone.
My GP said it was possibly the worst case he had seen but amazingly my husband and my children didn't catch it from me!