The big chill: Your stories of UK snow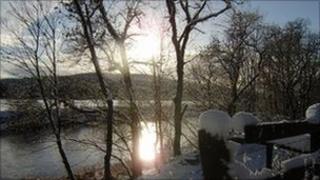 Temperatures in parts of the UK have plummeted to the coldest on record for November.
Temperatures in parts of the UK have plummeted to the coldest on record for November.
The Met Office has issued severe weather warnings for heavy snow for eastern Scotland, and north east England, down to Yorkshire and Humber.
BBC News website readers have been sharing their experiences of the big chill.
Jenny Reid, Dunblane, Scotland
We are currently snowed-in. We live in a little village called Ashfield. There is only one road in and one road out of the village.
There is at least two feet of snow now. We tried to go out earlier in the car and we got stuck. We couldn't make it out of the car park and our neighbours had to help us get back in. We brushed the snow away but within 15 minutes the wind has blown it back again. The snow keeps coming in, in big waves. it is biting cold out there.
This morning there was a blizzard, with thunder and lightening. The nearby A9 motorway is blocked and I haven't seen any cars drive past our house, just a few people walking. I work at a nearby pharmacy, so I can walk to work but I wonder if our pharmacist will be able to get in as he lives in Crieff.
Last year, the bad weather left us without power for over 26 hours. We have learnt from that. We have a nice log fire and have plenty of food stocked up. I have just done some cooking, in case the power goes.
We are lucky here. There is a real community spirit. We have good neighbours and we will all club together to look after each other at this time.
Ian Mercer, Lancashire, England
I am the managing director of a company in Ormskirk, Lancashire that supplies rock salt to places such as schools, doctors' surgeries, hospitals, prisons, airports and shopping centres.
The Highways Agency and local councils do the job of keeping the roads gritted during bad weather but we supply businesses with salt, to grit their pathways and car parks.
We are an important part of the salt supply chain because every business has a health and safety responsibility to their staff and customers.
We are bagging up salt 24 hours a day, seven days a week to meet demand.
We have already sold twice as much salt this year as we did last year and we aren't even in December.
Last year everyone was caught out by the heavy snowfall but this year most people have been well-prepared.
We bought our salt supplies in April from a large Rock Salt Mine which supplies about 70% of the salt used in this country.
It sold really well, so in September we asked the mine for more but they haven't got enough to go round.
The mine said they can't supply us with more salt until January so we have had to import salt from places such as Sardinia, Egypt and Russia.
It is not just the price of importing salt that is a worry but also the case of availability.
One of my ships went to Egypt to pick up 14,000 tonnes of salt, there was such a high demand for it. My ship had to wait in a queue for 28 days before it could be loaded.
The mine works extremely hard to supply the UK with salt but it is under so much pressure because of the bad winters we are now getting.
I don't want there to be a prolonged winter this year because I don't think the UK would be able to cope.
Karen Young, Milnathort, Scotland
My daughter, Amy and I were out walking our dog, Penny this morning at about 0700 when there was a flash of light across the sky and then a roll of thunder.
It was snowing at the time and I have never heard of a thunderstorm during a snowy spell before.
We have had at least four inches of snow here. I was out clearing the path when a car stopped. The couple in the car were heading north and came off the motorway to avoid the traffic tail-back. I warned them that the roads were bad but they said they would carry on trying! Why are people so fool-hardy to travel when the weather is this bad?
I will have to see if I can get to work in Perth tomorrow, I will wait until morning and assess the situation then.
Although the motorways are clear, it's getting from the house to them that could be an issue. I have blankets and wellies and shovel for in the car in case.
I was in Perth on Friday to watch fireworks when the snow started and although it was pretty to watch the drive back home on the motorway was not for the faint hearted! I was following the tracks in the snow, as at times I could not see where the road was.
I have some homemade soup on the hob and the heating in my house is turned up. I have also put out extra food for the birds.
David Griffin, Douglas, Isle of Man
I left my house in Douglas for the airport at about noon, there was only about about half an inch of snow settled on the ground but the weather seemed fine. When I got to the airport, it started snowing heavily and didn't stop. It started to settle, which is very rare here. We often get a bit of snow on the top of mountains but not at sea level, where the airport is. I am a lawyer, and was supposed to fly from the Isle of Man airport to Manchester and then on to Brussels on business. I got to the airport and all of a sudden all the flight information screens started to say that flights were delayed and then that they were cancelled. Finally they flashed that the airport was closed!
I didn't drive myself to the airport so I had to get a taxi back but there were no taxes in sight. There was also a rumour circulating in the airport that the main road out of the airport was closed. I waited for ages for a taxi, eventually one came and I shared it with two ladies back to Douglas. We really had to convince the taxi driver to do the journey.
By this time there was about six inches of snow on the ground. The nine mile trip home usually takes 15 minutes - tonight it took one-and-a-half hours.