Aung San Suu Kyi: Burmese reaction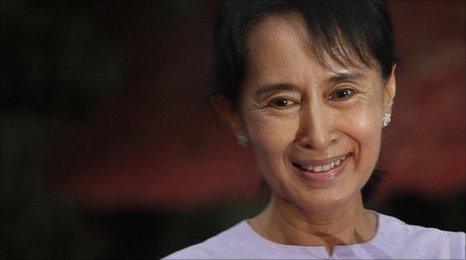 The Burmese military authorities had detained the Nobel Peace Prize winner for 15 years.
Jubilant supporters gathered outside her home in Rangoon to witness her release.
BBC News website readers from Burma have been sending in their reaction. Here is a selection of their comments:
I'm very glad to hear the news. I wish her wonderful times in her life.
Good news. But her release is timed to coincide with the victory of the junta. The release will make people all over the world notice the legitimacy of the new junta's transformed elected government. Some credit may go to the junta. The card is being played by the junta. The junta is watching the outcome of this freedom. They may trap her anytime back into the cage if their position in power is shaken. Let's see how the game plays out.
We hope Daw Aung San Suu Kyi will be free forever now, as well as all the other political prisoners.
I am really glad that she has been released from house arrest. We are hoping for all to be released from our current situation. We want to deliver our nation and people from living in this deep hell.
I am so excited that Daw Su, my icon, was released and hope that she can do her best for our country for we need her a lot. I would like my land to become a developed nation with no political problems and don't want to see any riots in the future. We hope for peace soon.
I think it is good news for the people of Burma, who are so accustomed to always hearing bad news. Burmese people face two big challenges now. Along the border, there is fighting between government troops and ethnic rebel groups. Thousands of refugees are fleeing to bordering countries. Who can solve this problem? The military junta cannot solve this problem. Nobody trusts them. All Burmese people support and believe Aung San Suu Kyi. The UN and the international community, particularly China and India, should support Aung San Suu Kyi and put pressure on the military junta.