Help reaches stranded Carnival Splendor cruise ship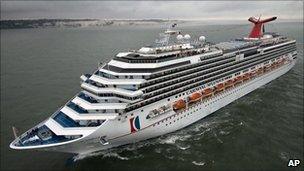 A tugboat has begun towing a cruise ship which caught fire and was stranded off the coast of Mexico back to shore.
The Carnival Splendor was 200 miles (310km) south of San Diego when the blaze broke out on Monday morning, said owners Carnival Cruise Lines.
The first of several tugboats reached the ship, with 4,500 people aboard, on Tuesday afternoon and begun towing it to San Diego, the cruise line said.
Passengers will get a full refund. No-one was harmed by the fire.
Earlier, US Navy helicopters shuttled in supplies to the stricken ship, some 200 miles (320km) south of San Diego.
More tugboats are en route to the vessel.
After previous reports that the ship would be taken to the port of Ensenada, in Mexico, the cruise line released a statement on Tuesday evening saying the cruise liner should arrive in San Diego late on Thursday.
"If the ship is unable to maintain sufficient speed under tow, it is possible that we could revert to the previous plan and dock in Ensenada," the cruise line said.
The boss of Carnival Cruise Lines admitted that the conditions on board were "very challenging".
Coast Guard Capt Tom Farris agreed, saying: "Without being there - and I'm glad I'm not - I think they're probably uncomfortable."
The 952ft (290m) Carnival Splendor sailed from Long Beach, California, on Monday for a seven-day cruise of the Mexican Riviera.
There are 3,299 passengers on board, along with 1,167 crew. Sixteen Britons are among the passengers.
The fire in the engine room cut off most power supplies. Toilets and cold running water were restored on Monday night, but air conditioning, hot food service and telephones are not working.
When the fire started, passengers were initially asked to move from their cabins to the open upper deck. Later, they were allowed to go back to their rooms.
Drinks, cold food and entertainment were being provided to passengers, the cruise company said on Tuesday.
Monty Mathisen, of the publication Cruise Industry News, referred to the fire as a freak accident.
"This stuff does not happen, I mean once in a blue moon," he told AP.
Carnival president and chief executive Gerry Cahill said in a statement: "We know this has been an extremely trying situation for our guests and we sincerely thank them for their patience.
"Conditions on board the ship are very challenging and we sincerely apologise for the discomfort and inconvenience our guests are currently enduring."
Related Internet Links
The BBC is not responsible for the content of external sites.