Contraceptive pill for teenagers: Your views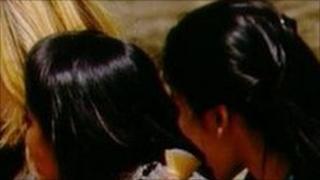 Girls as young as 13 are able to get the contraceptive pill from chemists without their parents' knowledge in a pilot scheme on the Isle of Wight.
Isle of Wight Primary Care Trust said it would reduce unwanted pregnancies, but church and campaign groups have called the move "irresponsible".
Readers of the BBC News website have been sending us their thoughts.
Supporting the scheme
When I became sexually active at the age of 17, I kept it a secret from my mother and father. When I revealed myself months later, my mother was more shocked that I had gone on the pill than the fact that I was having sex! She was convinced that using the pill would make you infertile. We should bear in mind that parents are often badly educated in some sexual matters. Not to mention those who avoid the issue by only telling their children about the 'little word no'. Elizabeth, London
When parents are not doing their job properly, it is time for the state to intervene and do it for them. David, Poland
How can this be a bad thing? It's just another tool to help cut unwanted pregnancies. While I can see why those who disagree are worried about cutting out parents, no girl would do this without talking to her friends about it first. Louisa, Isle of Wight
As the mother of a son who has just turned 12, I think it is a good idea. Teenagers will have sex, whether protected or not, despite all the education in the world. It is so important that contraception is available to them. The pharmacies are not encouraging them to be sexually active, they are just promoting the use of adequate contraceptive measures. I have already started discussing safe sex with my son. Elaine, Glasgow
If a girl has parents that she can easily approach on this subject then she won't need this type of service. If she can't talk to her parents or doesn't want to then at least she has the option of being responsible and getting contraception sorted out for herself. If she feels old enough to have sex then she's old enough to be responsible for contraception. Emma, Spain
I put myself on the pill at 15 without the knowledge of my parents. At 19 my mother decided I was old enough to be allowed the pill and escorted me to the family planning clinic. The nurse who saw us was lovely enough to act as if it was my first visit. If I hadn't been able to access the pill I'm pretty sure I'd have been a teenage pregnancy statistic. Cherry, Tyne and Wear
Boys and girls are having sex far younger than my generation and if they are wise enough to go and get the pill then good for them. Lesley, Helensburgh, Scotland
I was a teenage mum. I have raised four children and know how difficult it is. These young girls have to give up their lives to raise a family. My daughter is nine. I will be putting her on the pill as soon as her periods start. Prevention is paramount. Jane, Stockport
Against the scheme
The government should think about introducing a programme into schools where girls can get the contraceptive implant at the age of 13, which lasts five years and there would not be nearly as many teenaged mothers in Britain. Caroline, Birmingham
Ridiculous! The pill and morning-after pill should be monitored by a doctor, or best given over the counter to only 16-year-olds and over. Children under the age of 16 need parental, doctor and counsellor involvement. Teenagers this age may have the need and urge to have sex but they don't understand the complications and responsibility that comes with having a baby. Natasha, Hong Kong
I think this is absolutely atrocious. It is dangerous and unethical to enable young girls to put artificial hormones into their bodies without their parents' knowledge. Their bodies are still developing and I would not be surprised if 50 years from now we see an increase in fertility problems because of it. Emma, Wakefield
The best way to avoid these type of problems with our children is to make them aware about things. Create a friendly atmosphere at home so they can share any problems with you. Shrihari, India
Girls aged between 13 and 15 are not vulnerable women - in fact they are children who are being sexually abused. Giving these children the pill will legitimise the abuse. These children should be given the morning-after pill if necessary but parents, their GP and social services should be informed immediately of the sexual abuse of a minor. JP, Leighton Buzzard
The health side-effects of being on the pill, especially at such a young age, should be given more consideration. Hormones are such a vital part of the body and their delicate balance shouldn't be interfered with by using synthetic hormones. Linda, Worthing
I used to live on the Isle of Wight, where my husband was a teacher who would give social health classes. The lessons included talks about responsible behaviour, the response he got was "I don't care if I get pregnant, I'll get a flat like my sister did". Until lone parenthood ceases to be a lucrative way to get on to the housing list and get income, no amount of chucking pills at them will solve the problem. Christina, Eastbourne