Rick Sanchez leaves CNN after Jon Stewart bigot remark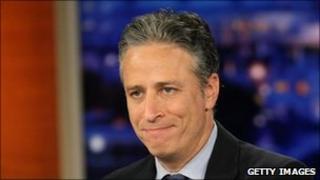 CNN news anchorman Rick Sanchez has been sacked by the network after making comments about top TV satirist and comedian Jon Stewart.
Sanchez called Stewart a bigot during a radio show on Thursday and abruptly left CNN on Friday.
Sanchez, a Cuban-American from a poor immigrant family in Miami, said Stewart was "upset that someone of my ilk is almost at his level".
Stewart's Daily Show on Comedy Central had frequently mocked Sanchez.
Sanchez had worked at CNN since 2004 and hosted the channel's afternoon show Rick's List, which used social media networks such as Twitter to engage viewers.
Stewart had mocked Sanchez several times, including for the mispronunciation of the word "annals". When Sanchez said House Republican leader John Boehner had sent him a tweet, Stewart referred to it as "send a twit a tweet".
In the radio interview on the Pete Dominick satellite show, Sanchez said Stewart was bigoted against "everybody else that's not like him", although he later toned down the word bigot.
He said: "I'm telling you that everyone who runs CNN is a lot like Stewart, and a lot of people who run all the other networks are a lot like Stewart, and to imply that somehow they, the people in this country who are Jewish, are an oppressed minority? I can't see someone not getting a job these days because they're Jewish."
CNN said in a statement: "Rick Sanchez is no longer with the company. We thank Rick for his years of service and we wish him well."