Murder trial hears there was 'blood everywhere'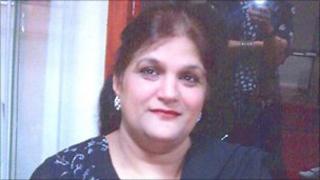 A murder trial has heard that a teacher found "blood everywhere" after hearing "urgent, terrifying screaming" at the Glasgow flat of a radio agony aunt.
Natalie Kelly, 37, a neighbour of Nasim Jamil told the High Court in Glasgow she was dozing in her flat when she was woken by the cries.
Ms Kelly was giving evidence at the trial of 29-year-old Khalid Sarwar.
He denies murdering the 54-year-old Asian radio presenter by repeatedly striking her on the head and body.
Ms Kelly told prosecutor Dorothy Bain QC that she followed the sound up to Mrs Jamil's flat and in the hallway saw her daughter Nazia and another neighbour Maureen Tripovic who were both screaming.
Miss Kelly said Nazia told her to look in the kitchen of the Byres Road flat and added: "Mrs Jamil was lying there. She looked dead."
The jury was then played a 999 call in which Miss Kelly is heard saying: "There is blood everywhere."
Miss Kelly was giving evidence at the trial of Mr Sarwar, who denies murdering Mrs Jamil in her flat on 9 December last year.
She also told the court that as she was standing in the hallway of Mrs Jamil's flat she noticed there was no shade and no bulb in the light fitting.
She said: "I though that was unusual. It wasn't the kind of house they would have that."
Body position
The murder trial also heard from Pc Siobhan McClung, 24, who was one of the first officers on the scene at about 2000 GMT.
She denied a suggestion from Donald Findlay QC that she had moved the body of Mrs Jamil.
The jury has heard that neighbours claimed that Mrs Jamil's arms were by her side, but when police photographs were taken at 2145 GMT one arm was behind her head and the other was out to the side.
Pc McClung was shown a photograph taken of the body and said that was the position she remembered it being in.
When asked by Mr Findlay: "Is is your evidence you did not touch the deceased?" she replied: "That's correct."
The officer was then asked: "If someone chose to reposition the body was it you or your colleague?" and she replied: "No."
Mrs Jamil was a presenter on Asian radio station Awaz FM.
Mr Sarwar is accused of murdering Jamil by repeatedly striking her on the head and body with a hammer and screwdriver or similar instruments and hitting her on the head with a bottle and a piece of glass on 9 December 2009, at her flat on Byres Road in Glasgow.
He is also charged with stealing three knives, a quantity of clothing, a light bulb, two phone, keys, gloves, a watch, a bracelet, a necklace, a pair of earrings, a handbag and a sum of money.
Mr Sarwar is also accused of attempting to pervert the course of justice on 11 December last year, by giving false information to police officers.
He denies all charges and has lodged a special defence of incrimination.
The trial before Lord Brodie continues.