Join in our Papal Visit coverage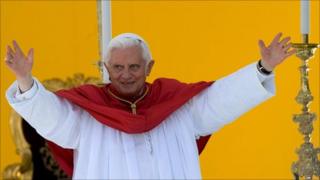 Pope Benedict XVI is in the UK on a four-day state visit - the first state visit to the United Kingdom by a serving pontiff.
Every day BBC News will bring you the latest on the 2010 Papal visit, in addition we want to hear your experiences of this first state visit by the head of the Catholic church and what it means to you.
Have you seen or been involved in any of the official Papal events?
Is something significant happening where you live to commemorate the visit by Pope Benedict XVI?
Do you have a story to tell about your experience of the Papal visit or is there something you think we should follow up?
Thank you for sending your comments.