US indicts 11 executives for honey smuggling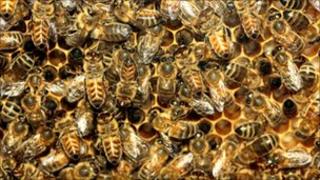 US authorities have indicted 11 German and Chinese executives for conspiring to illegally import $40m (£26m) worth of honey from China.
The executives were accused of being part of an operation which mislabelled honey and tainted it with antibiotics in an attempt to avoid import duties.
The case is part of a crackdown on illegal imports of substandard and counterfeit products.
Officials say it is the biggest food smuggling case in US history.
Ten of the suspects were senior executives at Alfred L Wolff, a German company, which allegedly bought cheap Chinese honey and, en route to the US, filtered out "pollen and other trace elements that could indicate that the honey originated from China", according to the charge sheet.
A sales manager from the Chinese-based QHD Sanghai Honey was also indicted.
'No illness'
Some of the honey was mixed with Indian honey to disguise its origin, or adulterated with antibiotics, in an attempt to avoid paying $80m in import duties.
Illinois attorney Patrick Fitzgerald said most of the honey was of a commercial grade and would have been diluted before being sold, and that it was not believed to be a risk to health.
"There is no allegation and no reason to believe that any of the honey involved in this case had led to any injury or illness," he said.
Those involved are alleged to have made 606 illegal shipments over six years, beginning in March 2002.
Senator Charles Schumer said he welcomed the fact that law enforcement agencies were taking "honey laundering" seriously.
"Now we also need the FDA (Food and Drug Administration) to weigh in with a national honey standard to make sure this crackdown on Chinese imports sticks," the New York Democrat said in a statement.