Cheap nose jobs change the face of Bolivia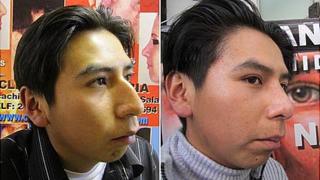 At a busy street corner in La Paz, a boy is announcing something for sale. It's not sweets, nor newspapers, nor a shoeshine but… nose jobs.
In Bolivia, plastic surgery campaigns are encouraging indigenous people to embrace nose jobs to change their looks, and apparently with some success.
It is 3pm in the plastic surgeon's office and Juan Carlos Calamar, 19, is about to enter the operating theatre.
"I want to have a better image, to avoid other peoples' mockery when they make fun of my nose," he says.
"For me it is something serious. People discriminate against me a lot 'there goes the big-nosed', they say. Others like me also feel discriminated against," Juan Carlos says.
For some, such surgery goes against the whole idea of indigenous pride encouraged by the country's first indigenous leader, Evo Morales.
But Juan Carlos, who is of Aymara origin, rejects this.
"Only the image of my face will change, my roots, my culture will still be the same," he says.
"I don't want to show off about a pretty new nose, I just want to feel good with myself, increase my self-esteem and then be able work hard for this country."
It seems there are quite a lot of people trying to follow his example, as the waiting room in the clinic is crowded with patients wanting appointments.
Most of them are of indigenous origin, Andean Aymara or Quechua.
Bargain price
Cosmetic surgery is seen as luxury in many countries, but here in Bolivia, one of South America's poorest countries, it has become more affordable and widely promoted.
There are even regional advertising campaigns against what are termed "nose deformities".
For some low-income patients, surgery is available at reduced cost.
Juan Carlos has paid the equivalent to $380 (£240), a bargain compared to some cosmetic surgery hotspots such as Brazil, Venezuela and Iran where the average nose job costs $2,000 (£1,200).
"I've heard an ad on the radio about nose surgeries at half-price. I tried to convince my mother but she lacks the means, she is a street seller. So I came to see the doctor, I had a consultation, and he said they were going to help me with the costs," said Juan Carlos.
The idea is to "democratise" cosmetic surgery, and make it available to many more people in Bolivia, where the average annual income is about $1,500.
Western beauty
Richard Herrera is the surgeon running the plastic surgery campaign in La Paz, and he supervised Juan Carlos's operation.
He and his team have operated on more than five thousand patients.
"We started these campaigns with the aim of reaching out to impoverished people, to help the people with no access to surgeries.
"So we developed a low-cost surgical package, we have special prices; special discounts to poor people and in every campaign we even operate on some patients for free," says Dr Herrera.
"We can say that the 'process of change' that Bolivia is undergoing at the moment thanks to President Morales' left-wing government has arrived here too.
"People that never thought about surgery, not even having access to a specialist, now they do and they feel they need that change of image," he says.
But for some, this kind of change is a step in the wrong direction.
"I think cosmetic surgery is an effect of the global and Western idea of beauty that is now ruling the world," says Pablo Groux, who is Bolivia's former minister of culture and an expert on issues of indigenous identity.
"Aymara and Quechua communities that live in urban areas are not immune to these foreign influences, we have to accept this", says Mr Groux.
After a couple of weeks, I re-visit Juan Carlos, to see if for him, plastic surgery has been a life-changing experience.
For his mother Patricia, it has been undoubtedly positive.
"He is so happy now, and I am so happy for him, that he managed to change his looks so much I didn't even know such a thing was possible."
And indeed, the change is remarkable.
"I feel very good, people are not making fun of me anymore, I feel much more comfortable with myself, more secure with myself," says Juan Carlos.
"I feel I could accomplish everything, all of my goals now."