Gen Sir David Richards new head of British armed forces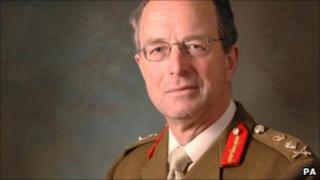 Gen Sir David Richards is to be the next Chief of the Defence Staff, the UK's most senior military officer, the Ministry of Defence has announced.
He will replace Air Chief Marshal Sir Jock Stirrup, who is leaving the post later this year.
Gen Richards is currently head of the British army, and is a former commander of international forces in Afghanistan.
He also commanded UK troops in Sierra Leone in 2000, and served several tours of duty in Northern Ireland.
Sir Jock is leaving the top post in October, following the completion of the government's Strategic Defence and Security Review into the future of the armed forces.
Defence Secretary Liam Fox thanked him for his "excellent leadership" of the military.
'Dynamic'
David Cameron congratulated Sir David on his appointment and paid tribute to Sir Jock.
In a statement the prime minister said: "I have been personally grateful for his advice since becoming prime minister and know that he will continue to make an extremely valuable contribution in the months ahead.
"I have no doubt that Sir David will build on this in the years to come, ensuring that all three services play their part in protecting Britain's national security in Afghanistan and elsewhere."
BBC defence correspondent Caroline Wyatt said the general was seen as a "dynamic and charismatic" character.
As chief of the defence staff, he will be the government's principal military advisor.
He commanded 35,000 troops from 37 nations in Nato's International Security Assistance Force (Isaf) in Afghanistan between May 2006 and February 2007, and was the first foreigner since World War II to command US forces.
On taking up that job, he pledged Nato forces were ready to take on the Taliban "wherever they may be".
His nine months in charge coincided with an increase in troop levels from 9,000 to more than 33,000.
He has called himself "a seat-of-the-pants soldier", and has said that during his time in Afghanistan, the people and the country "entered my bloodstream".
Our correspondent said Gen Richards takes up his new post at a crucial time in Afghanistan as the campaign goes through one of its toughest periods.
She added he will have to help to shape Britain's armed forces, which may need to get smaller, despite still having to play a big role on the global stage.
His appointment will be welcomed by the Army, she said, because it has long argued the head of the armed forces should come from its ranks - at a time when soldiers are bearing the brunt of the combat in Helmand.
His predecessor, Sir Jock Stirrup - who has a RAF background - was criticised for failing to ensure troops were properly equipped for the conflict.
Gen Richards was commissioned into the Royal Artillery in 1971, before graduating in international relations from University College Cardiff three years later.
His actions in Sierra Leone changed the fate of the country after he, and a small number of British staff officers took personal command of the war and tried to end it by defeating the rebel forces.
His mission there - during which he persuaded then Prime Minister Tony Blair and Foreign Secretary Robin Cook to allow him to return and run a bigger intervention to finish off the job successfully - saw him awarded a Distinguished Service Order (DSO) for his leadership and "moral courage".
Former Security Minister Lord West told BBC Radio 4's PM that he worried the Chief of Defence Staff (CDS) role was becoming "politicised" and warned Gen Richards needed to ensure he stayed impartial.
Lord West, who was a former head of the Royal Navy, said: "The dangers are that when you get in with a group, you're sitting there around the cabinet table as the CDS will, it's quite easy over time to become part of that group and forget sometimes that you have to give absolutely pure advice.
"I am not saying that will happen, but that's one of the real risks there."
Patrick Hennessey, an author and former captain in the Grenadier Guards, said: "[Gen Richards] has got a good track record and strong reputation, certainly within the Army.
"It will be quite welcome [news] for some of the troops to know that they have got a soldier, essentially, in that top job, where previously we have had very good leaders but ones whose background wasn't necessarily in that kind of work.
He said soldiers returning from overseas will need somebody like the general to "fight their corner" as decisions were made about where to cut the defence budget.