Falkirk top in enterprise contest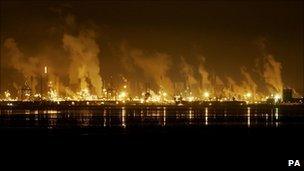 Falkirk has been named the most enterprising place in Scotland as part of a UK-wide competition.
The region was recognised for its "My Future's in Falkirk" campaign - a 10-year initiative to tackle job losses in the petrochemical industry.
Runners-up included Borders College, Interactive Tayside and Stirling Business Panel.
The competition, run by Enterprise UK, is now in its sixth year. Falkirk was crowned winner of the Scottish heat.
Falkirk Council said developments in the area include a new 33-acre business park, regeneration of town centres and "innovative partnerships" between education and business.
Competition judge Brian McVey, from Scottish Enterprise, said: "The success of 'My Future's in Falkirk' demonstrates what can be achieved if people and organisations work together to improve the social and economic prospects of their community.
"We are confident that their great example will encourage other communities to do more to support the development of entrepreneurship, which will be critical in responding to the economic challenges we face in future."
In August, Falkirk Council will go up against the other 11 regional finalists from around the UK for the Enterprising Britain 2010 national title.
The overall winner will then go on to represent the UK at the European Enterprise Awards in 2011.
Adrian Mahoney, convener of economic development for Falkirk Council, said the prize was a "fantastic achievement" for Falkirk.
"We are delighted to have been recognised for our work in bringing change to the area, creating jobs and transforming the community," he said.
"Our initiative doesn't stop here though - we will continue to champion enterprise and look forward to the UK finals of the competition."
Related Internet Links
The BBC is not responsible for the content of external sites.