Rare mushroom blamed for mystery deaths in China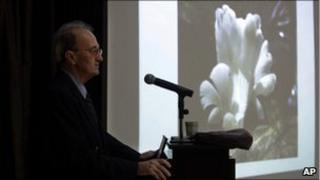 A tiny mushroom, little known to scientists, is behind some 400 sudden deaths in China, experts say.
For 30 years, during the rainy season, scores of villagers in Yunnan province have died suddenly of cardiac arrest.
Following a five-year investigation, researchers from the Chinese Centre for Disease Control and Prevention (CDC) in Beijing say they have the culprit.
The mushroom, know as Little White, belongs to the Trogia genus and has three toxic amino acids, experts say.
Researchers found that the deaths, known as Yunnan Sudden Death Syndrome, occurred almost always during rainy season (from June to August), and at an altitude of 1800-2400m (5900-7900ft).
Warning
"We heard amazing stories about how people would drop dead in the middle of a conversation," Zhang Shu, a cardiologist who took part in the CDC study, told Science magazine.
"About two-thirds of victims, in the hours before death experienced symptoms such as heart palpitations, nausea, dizziness, seizures and fatigue," he said.
The investigation was initially hampered by language barriers, and the remote locations of the Yunnan villages.
However, in 2008, the scientists noted that the Little White mushroom was often found in the homes where people had died.
Yunnan province is well-known for its wild mushrooms, many of which are exported at high prices.
Families, who make their living by collecting and selling the fungi, eat the Little White as it has no commercial value - it is too small and turns brown shortly after being picked.
A campaign to warn people against eating the tiny mushrooms has dramatically reduced the number of deaths. There have been no reported deaths so far this year.
However, the scientists are carrying out further tests to find out why the mushroom is so lethal, as testing found the mushroom contained toxins, though not enough to be deadly.
"What's happening in Yunnan isn't expected from any other mushroom toxin," said Robert Fontaine, a US epidemiologist who took part in the investigation.
"What we have here is a toxin that is picking off vulnerable people," he told Science.
He suggested that the toxins could be acting together with high concentrations of barium, a heavy metal, in the local water supply.