Deadly typhoon cuts power across northern Philippines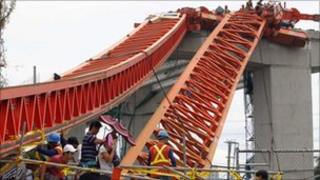 The first typhoon of the season has hit the Philippines with unexpected force, killing at least 22 people and left millions without power.
Typhoon Conson hit north-east Quezon province and the central island of Luzon, and surged through the capital and six other provinces.
President Benigno Aquino criticised weather forecasters who failed to predict the storm would hit Manila.
The Asian typhoon season often hits the Philippines with greatest force.
Twelve people were reported injured and 57 are thought to be missing after the storm which had winds of 120km/h (75mph).
The dead included a mother and daughter hit by a falling tree, and two children killed when a tree crashed through their house.
Another woman was reportedly electrocuted by a power line.
Several fishermen are missing off the Bicol region south-east of Manila, the military reported, plus another three people whose homes were swept away by flooding.
'Not acceptable'
Damaged power lines left more than half of the main northern island without electricity, including much of the capital and its overhead railway network.
It is expected to take two or three days before full power can be restored.
President Benigno Aquino criticised meteorologists for failing to suggest Manila would be so hard-hit.
"This is not acceptable," he told officials at an emergency meeting of rescue agencies.
It is expected to hit the Chinese mainland west of Macau later in the week.