Inquiry into 'despicable' attack on man, 72, in Grimsby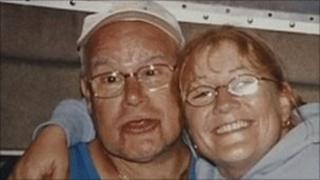 A 72-year-old man suffered broken ribs and wrists in a "despicable" attack outside his home in Grimsby.
Ernest Hindle, described as vulnerable by police, had parked his mobility scooter at his home in The Square in Weelsby Street on Sunday night.
He was confronted by two men who pushed him to the ground, assaulted him and tried to steal his wallet and watch.
Det Insp Wendy North said the men showed "no remorse during this violent assault" and appealed for witnesses.
Community 'shocked'
Police said the attack happened some time between 2220 and 2235 BST on Sunday.
Mr Hindle suffered broken wrists, broken ribs, swelling to his face and cuts to his body.
Friend, Anita Barratt, said: "He has four broken ribs, a broken arm, the other arm is very badly sprained and the left side of his face is bruised and swollen. It was sickening to see him like that."
Ms North said: "An investigation is under way into this despicable offence against an innocent and vulnerable man."
She added: "The incident has happened in a close-knit community and has left the residents understandably shocked by the nature of the assault.
"It is vital that anyone with information, no matter how trivial it may seem, comes forward either by contacting Humberside Police of contacting Crimestoppers."