Peel improvement plans go on show at Town Hall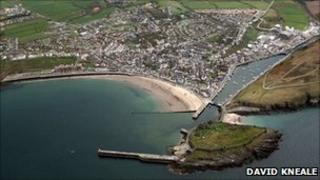 A public exhibition of design proposals for the planned regeneration of Peel town centre in the Isle of Man is being staged at Peel Town Hall.
Members of the public have been urged to view the plans for improving the town's streets and public spaces and fill in feedback forms.
A report will be compiled, which will be studied by the urban designer to help refine the plans.
The manned exhibition runs until Saturday.
The scheme's costs will not be finalised until September when funding from the Chief Minister's office will be applied for.
Urban designer Niall McGarrigle of McGarrigle and Jackson said: "This regeneration is not about building new buildings, its intention is to improve areas around the promenade and streets and public spaces in response to local people's requests.
"It may be that we make certain roads one-way, or that we improve lighting and other street furniture.
"We have already held a series of workshops where Peel people have told us they like certain parts of the town and want to retain its feel, but think that other areas need improving.
"This is a process and by the end of it we will hopefully have come up with a scheme that people have asked for," said Mr McGarrigle, whose team was appointed by the Peel Regeneration Committee.
Peel MHK Tim Crookall said: "There's an awful lot of information up there at the exhibition and there should always be someone in attendance from the committee to talk through the scheme with members of the public."