Eight dead in Kandahar suicide attack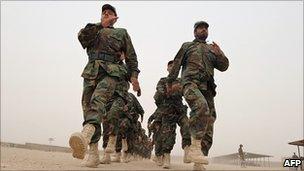 Three American soldiers and five Afghan civilians have died in a Taliban suicide attack on a police base in southern Kandahar province, Nato said.
A suicide car bomber rammed the compound entrance before insurgents fired rockets and machine guns in Tuesday evening's raid.
Afghan police backed by Nato troops repelled the attack, Nato said.
Earlier on Tuesday, a rogue Afghan soldier killed three British soldiers in Helmand province.
Nato said a "full-scale manhunt" is under way for the Afghan soldier, who escaped after killing the three Gurkhas in Nahr-e Saraj.
In the suicide attack on the Kandahar police base, international troops and police fought off the insurgents, Nato said on Wednesday.
The compound belongs to the elite National Civil Order Police, which operates within the Afghan police force and mans 11 checkpoints around Kandahar city.
The dead civilians were three Afghan translators and two security guards, Kandahar provincial police chief Sardar Mohammad Zazai told the Associated Press news agency.
Taliban spokesman Qari Yousef Ahmadi said they carried out the attack, in a telephone call to the Associated Press.
According to the militant group, 13 international troops and eight Afghan security forces were killed in the raid.
Nato said it was the third time in as many days that insurgent attacks had been repelled by Afghan and Nato forces.
The insurgents have stepped up attacks on government targets in Kandahar as US reinforcements are poised for an expected Nato offensive in the city, which is the spiritual birthplace of the Taliban.
Related Internet Links
The BBC is not responsible for the content of external sites.