Police in Malaysia uncover 'illegal zoo'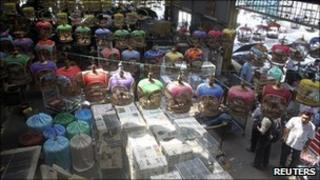 Police in Malaysia have inadvertently uncovered a massive haul of endangered wildlife during a raid on a warehouse.
The police - who were looking for stolen cars - found thousands of birds, leopard cats, albino pygmy monkeys and other animals at the site in the suburbs of the capital Kuala Lumpur.
Among the protected species were a pair of rare birds of paradise worth 1m ringgit ($310,000; £205,000).
The animals are now under the protection of the wildlife department.
More than 20 species of protected wildlife were found in the "mini zoo", Kuala Lumpur Wildlife Department deputy director Celescoriano Razond told the Daily Star newspaper.
"We thank the police for rescuing the animals and will work closely with them to bring the criminals to justice," he was quoted as saying.
The authorities said they believed the animals were to be bred or sold.
Police also found 42 stolen cars at the warehouse. They arrested two men but said they were believed to be low-level criminals.
The authorities are searching for the syndicate behind the illegal operation.