Venezuela hands over alleged Colombian drug lord to US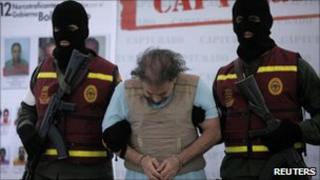 Venezuela has extradited an alleged Colombian drug baron, Carlos Alberto Renteria, to the US after his arrest in the Venezuelan capital last week.
Mr Renteria, who allegedly headed Colombia's Norte del Valle drug cartel, was handed over to US officials at Caracas airport.
Two other suspected drug traffickers were also extradited.
US authorities accuse Mr Renteria of smuggling hundreds of tonnes of cocaine to the US in the 1990s.
As suspects Carlos Alberto Ojeda and Luis Frank Tello were handed over to Drug Enforcement Administration officials in an operation shown live on state television, they shouted insults and protested their innocence to the assembled media.
But when Carlos Alberto Renteria, the man accused of heading the Colombian Norte del Valle drug cartel was extradited, he remained silent with his head bowed, denying the cameras the chance to take images of his face.
Mr Renteria, also known as Beto, had been on a US government most-wanted list since 2004 with a reported $5m reward offered for his capture.
The US government says that Mr Renteria was responsible for smuggling around 500 tonnes of cocaine into the US via Mexico during the 1990s.
He will now be tried on several international drug trafficking charges.
"With the deportation of these three Colombian men, we have shown the unbreakable commitment of our government and our revolution to this fight against drugs," said Venezuelan Interior Minister Tareck El Aissami.
Heyday
Critics say that Venezuela has become a safe-haven for drug-smugglers since Hugo Chavez came to power a decade ago, and that the government's decision to expel the DEA in 2005 has made matters worse.
The government of President Chavez robustly denies that, saying they have made more drug-related arrests and made more drug seizures without DEA assistance than with it.
During its heyday in the 1990s, the Norte del Valle cartel was one of the most powerful in Colombia, believed to have exported more cocaine to the US than any other organisation.
Mr Renteria is believed to be the last remaining leader of the cartel to be captured.