Thorntons' sales decline continues as more jobs are cut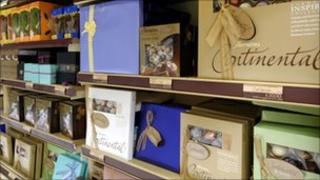 Chocolate retailer Thorntons said a decline in sales had deepened as it announced cuts in head office jobs.
Like-for-like sales in its 377 stores fell 6.2% in the 10 weeks to 26 June, down from a 4.6% fall in the previous quarter.
The summer weeks are traditionally Thorntons' weakest, but the company cut prices more sharply to reduce stocks.
In a cost-cutting move, Thorntons said about 35 jobs would go at its head office over the next three months.
The company, based in Alfreton, Derbyshire, issued a profits warning in April and announced that chief executive Mike Davies would be replaced with a successor with "specific retail expertise".
Thorntons' statement on Wednesday said that the company was trading "in line with expectations".
There were some brighter spots, especially in the Thorntons Direct online business, where sales grew 17.1% to £0.9m, thanks to a recovery in sales to corporate customers.