Ryanair reprimanded for 'misleading' advertisements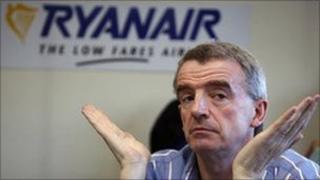 Ryanair has again been reprimanded for misleading customers with low fare offers, a watchdog has found.
Two newspaper adverts for the airline offered £10 one-way fares, with the small print explaining that the offer was subject to restrictions.
The Advertising Standards Authority, following a complaint by easyJet, said that the "ads were likely to mislead".
Ryanair declined to comment specifically on the ruling, but criticised easyJet for complaining.
The complaint concerned £10 one-way fares to Gothenburg and Dusseldorf. The small print said that the offer was subject to availability and excluded fees and charges.
EasyJet challenged the availability of the fares and queried if they included taxes, charges and check-in fees or were misleading because the ad did not state the relevant travel dates.
Ryanair told the ASA that more than 10,000 seats were available to Gothenburg and more than 22,000 seats were on offer to Dusseldorf.
The airline said there was no requirement to include in adverts the specific travel dates for offers, but said the campaign was for flights between 1 January and 28 February this year.
'No evidence'
But the ASA said in its report that readers were likely to believe the £10 deal was a fixed price, rather than for specific dates.
The ASA said: "Because we considered that consumers would understand '£10 one way' to mean that all flights to Gothenburg and Dusseldorf-Weeze were available at £10, and because we had not seen evidence to support that claim, we concluded that the ads were likely to mislead."
'Funny'
Ryanair did not comment on the ruling, but instead took a swipe at easyJet, claiming in a statement: "It's funny that easyJet are such sticklers for detail when they refuse to publish their punctuality statistics."
EasyJet rejected the claim. Spokesman Andrew McConnell said: "We would like to correct Ryanair's false accusation that we do not disclose our on time performance. This information can be easily found on page 7 of our annual report."
Ryanair and easyJet have clashed several times over claims made in adverts.
In 2008, the ASA referred the Irish airline to the OFT for "persistent failure to abide by the Code of Advertising Practice".
Ryanair hit back by making its own complaint to the OFT about what it said were the ASA's "bias and unfair procedures".