Fresh details about public sector pay freeze disclosed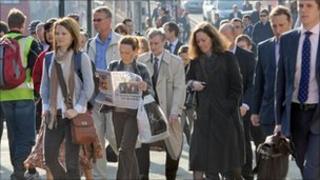 The government has revealed that many part-time public sector workers earning less than £21,000 a year will have their pay frozen for two years.
Ministers had previously indicated workers earning less than £21,000 would get a salary increase of £250 as part of efforts to protect the low paid.
Ministers have said a pay freeze will prevent more jobs from being lost.
But unions have said public sector workers are paying the price for a financial crisis not of their making.
In last month's Budget, Chancellor George Osborne said he would protect the lowest paid by exempting public servants who earned less than £21,000 from a two-year pay freeze.
But the government confirmed on Tuesday that part-time workers on less than £21,000 a year would also have their pay frozen if the equivalent full-time salary for their job exceeds the £21,000 limit.
The issue was raised by Labour MP Gloria de Piero, who asked why some of her constituents earning £12,000 a year were being told they were facing a pay freeze.
In response, Chief Secretary to the Treasury Danny Alexander said the pay policy was being applied "pro rata" but added that low-paid staff with families would be assisted by increases in child tax credits.
The Unison union has called for government departments to be given discretion to raise the pay of part-time staff.