Human skull found off Morecambe Bay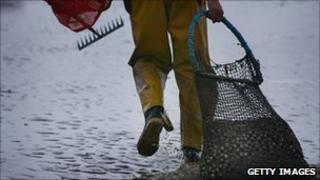 A human skull has been discovered off the Lancashire coast.
A fisherman came across the skull near Silverdale Point, on the edge of Morecambe Bay, on Saturday night. Tests are currently being carried out in a bid to establish its identity.
Police say there are bodies unaccounted for after the 2004 cockle-picking tragedy and the 2006 Morecambe Bay helicopter crash.
They cannot rule these in or out as they await test results.
On 5 February 2004, 23 Chinese people were drowned while harvesting cockles in Morecambe Bay.
The fast-rising tide at first stranded them in the bay, then washed them away. Two of the victims remain unaccounted for.
Swirling waters
In December 2006, a helicopter servicing a gas platform in the Irish Sea crashed.
Five gas workers and two pilots were on board, but only six bodies were recovered.
The remains of Keith Smith, 57, from Stockton-on-Tees, have not been found.
Police attempting to identify the skull say the swirling waters off Morecambe Bay make it difficult to pinpoint where it may have been washed up from.
Officers said there had been no recent reports of people going missing in the area.