Edvard Munch Madonna print is sold for a record £1.25m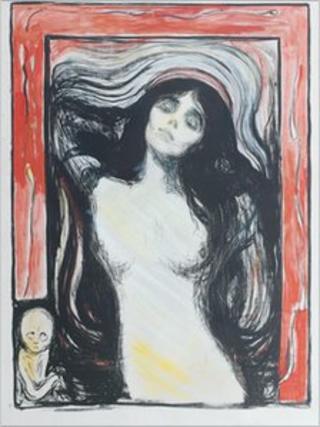 A hand-coloured image of Edvard Munch's Madonna has been sold for £1.25m, making it the most expensive print to be sold in the UK.
The artwork had been estimated between £500,000 and £700,000 at Bonhams before a private buyer from the US secured it.
Bonhams said the image had also become the second most expensive print to be sold in the world.
The work, in Munch's distinctive style, is signed and dated 1895. He re-worked the idea several times from 1895-1902.
It had not been shown in public before coming to auction.
The print is from the very first state, according to Bonhams, and the Madonna is seen in yellow and white set against a halo of blue, green and red.
The central figure is surrounded by a red border which contains shapes that appear to resemble sperm and a foetus. Munch's mistress, Dagny Juel, was the model.
The private buyer paid £1,252,000, including buyer's premium, for the print.
Robert Kennan, Bonhams head of prints, said: "It has been a real privilege selling such a wonderful image and it fully deserves to have achieved such a fantastic price."
The work, in the same family for over a century, was sold on behalf of the estate of Frank (Albert) Avray Wilson, an abstract expressionist artist.