Nottingham heart attack victim thanks plane hero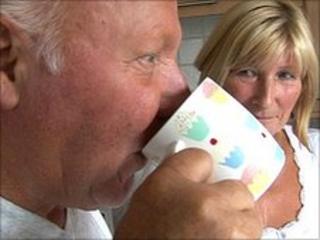 A Nottingham man who suffered a heart attack on board a plane over the Mediterranean has thanked the doctor who helped save his life.
Derek Webster, 67, of Bestwood Park, had appealed for help in locating the mystery doctor who recommended the plane make an emergency landing.
The flight was diverted to southern Italy where Mr Webster was treated.
Ian Shaw, an anaesthetist at Sheffield Northern General Hospital, said it was clear what needed to be done.
"He was struggling with his breathing and holding his chest... and it was fairly quickly obvious that he was suffering from an angina attack," Mr Shaw said.
The doctor used the on-board medical kit on the Thomson flight from Crete to start treating Mr Webster, but he felt it was best to divert the plane so he could be treated in hospital.
When he was treated at the hospital in Italy he was told he had suffered a heart attack.
Mr Webster said: "I wanted to thank him... I wouldn't have survived without him."
His wife Shirley added: "He would not have made it to the East Midlands, so it was a life-saving action."