20,000 drop in legally-held guns in NI over decade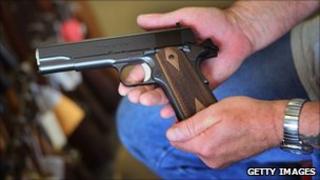 The amount of legally-held guns owned by civilians in Northern Ireland has dropped dramatically over the past decade, new figures show.
Statistics released by the PSNI Chief Constable, Matt Baggott, show the number of firearms certificate holders has dropped from 80,809 in 2001 to 61,266 in 2010.
The figures were revealed following a question from Sinn Fein MLA Daithi McKay to the Justice Minister David Ford.
Legally-held guns are those for which a firearms certificate has been issued by the Police Service of Northern Ireland.
The CAIN (Conflict Archive On The Internet) website states that in 1995, there were more than 130,000 legally-held weapons in Northern Ireland covered by firearms certificates.
Criminal gangs
In the past, republicans have claimed the issue of weapons held by the security forces in NI, together with those for which a certificate has been issued, is one which needs to be addressed.
Earlier this year, the justice minister warned farmers of the need to store legally-held weapons and ammunition securely in line with legislation so they did not fall into the hands of organised crime gangs.
Legislation on gun ownership in the UK and the US can be traced back to the same source.
The right to bear arms was guaranteed in the 1689 Bill of Rights, in which the new King William of Orange enshrined a series of rights for his subjects - Catholics were famously excluded.
This was enshrined in common law during the early years of the US, and later informed the second amendment of the US constitution, which explains why the right to bear arms remains so strong a factor in America.