Surrey crews to get new fire engines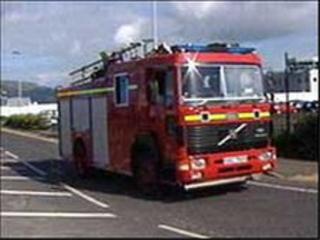 Ageing fire engines in Surrey are to be replaced with new vehicles, the county council's cabinet has agreed.
It was estimated the old engines would have needed repairs costing at least £5,500 each to keep them in service, with costs increasing over time.
The council said buying new vehicles would save money in the long-term by cutting fuel and maintenance costs.
The cost of the new fire engines could not be revealed because negotiations were still ongoing, a spokesman said.
'Fuel-efficient'
Councillor Kay Hammond said: "Safety is our top priority which is why we are investing in the fire service to make sure our firefighters have the equipment they need to save lives.
"The new vehicles will make it safer and easier for them to do their job while saving money in the long term on reduced fuel and maintenance costs."
Chief fire officer Russell Pearson said: "Our older vehicles are nearing the end of their operational life so it is important we replace them.
"The new appliances will be more fuel-efficient, more reliable and better able to respond to the demands of a modern fire and rescue service."
The old fire engines are to be sold at auction after the new vehicles arrive.