Blast house appliances examined by investigators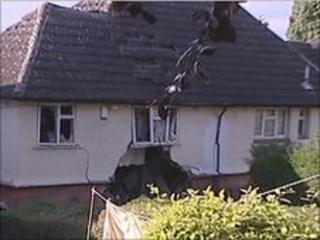 Police have removed kitchen appliances from the scene of an explosion at a house in Nottingham in which two people were seriously injured.
The house on Stockhill Lane was badly damaged in the blast and is being gradually demolished.
Police removed the washer and cooker as part of their investigation into the explosion, which happened on 20 June.
Sandra Shaw, 42, who lost limbs in the blast, remains in a critical but stable condition in hospital.
Her partner Alex "Sonny" Kirk is also in hospital in a stable condition.
The house is no longer classed as a police scene and has been handed back to Nottingham City Homes (NCH), which manages the property.
A new boiler was installed in the house six weeks before the explosion and had been inspected since the installation, a NCH spokesman said.
The explosion was heard up to half a mile away and caused part of the house's rear wall to collapse and much of the first floor to give way.