Who wins propaganda war over Iran scientist?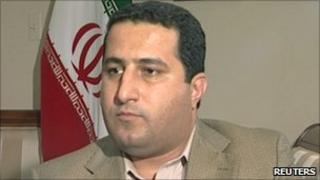 There are two diametrically opposed versions of the story. Iran says Shahram Amiri was kidnapped. American sources said that he defected and was giving them high-grade information on the Iranian nuclear programme.
On the face of it, the Iranian version now sounds a lot more credible, as Shahram Amiri has made his way to the Iranian diplomatic mission in Washington, apparently of his own accord.
However the United States continues to insist that Mr Amiri came to them freely, and has now left them freely.
And despite all the American actions over recent years, including the use of extraordinary rendition, and the existence of Guantanamo Bay, the seizure of a foreign scientist would surely be something of a different order.
Iranian pressure?
One possibility is that Mr Amiri has been pressured by the Iranians to return home.
His wife and family are left back in Iran, and would be vulnerable to such pressure.
Iranian exiles around the world are familiar with calls from the intelligence services or the Revolutionary Guards, threatening them or warning them not to speak to the media.
The journalist Maziar Bahari, who left the country after being held in prison for 118 days after last summer's disturbances, reported just such a phone call while he was in New York recently.
Shortly afterwards, he was sentenced - in his absence - to a long prison term by a court in Tehran.
Nevertheless there is no evidence of any such pressure on Mr Amiri.
Major catch
Iran has no official embassy in Washington. The two countries broke off diplomatic relations at the time of the US embassy siege in Tehran three decades ago.
Instead a few expatriate diplomats work out of an anonymous office building away from the main diplomatic area.
Technically it operates under the auspices of the Pakistani embassy, the protecting power for Iranian interests in the United States.
That means it still has diplomatic status. So the US authorities cannot demand entry.
Equally, though, the Americans could prevent Mr Amiri from leaving the United States for Iran, as he has reportedly told the Iranians he wants to.
However it appears the US State Department is prepared to let him go.
The spokesman, PJ Crowley, has told reporters: "He has been in the United States of his own free will, and obviously he is free to go."
In the meantime, the American spy agencies will be pondering how they managed to let slip a man they had been building up as a major catch.
In the war of nerves over the Iranian nuclear programme, this looks like a propaganda victory for the Iranians, even if Mr Amiri may have already told the Americans everything he knows about the programme.