Edinburgh library treasures to go on world stage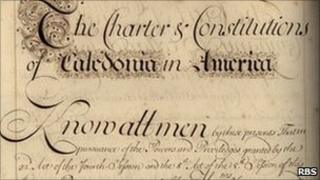 A collection of Scotland's most valuable cultural treasures is to go on display to the world on a new website.
The country's earliest surviving book and 16th Century maps have been selected for a Unesco website, which catalogues important artefacts.
A film of the last days of habitation on St Kilda and documents outlining the demise of Scotland's aspirations to create a colony were also picked.
They are currently in the National Library of Scotland in Edinburgh.
Its chief executive, Martyn Wade, said: "To have one artefact included in the Unesco Memory of the World programme would have been very exciting, to have four is beyond our greatest expectations and truly endorses the quality of our archives here in Edinburgh."
The most modern piece selected, St Kilda, Britain's Loneliest Isle 1923-28, offers a film insight of life among a tiny Gaelic-speaking community on one of the most remote locations in Scotland.
Only two years after the film was shot, islanders were forced to migrate after 2,000 years of habitation on the island.
Among the other artefacts picked is a collection of hand-drawn maps by Timothy Pont, which were used to create the first Atlas of Scotland.
Unesco also selected works from Scotland's first printers Walter Chepman and Andrew Myllar, the most significant being the earliest surviving dated book, John Lydgate's The Complaint of the Black Night, 1508.
The final artefact outlines a history of the Company of Scotland's plans to establish a trading colony in the Panama jungle.
The nomination for the Unesco register was made jointly with RBS and the National Library of Scotland, which also holds key records telling the Company of Scotland's story.
Despite gaining strong financial backing, the Darien Venture crumbled in 1700.
Established earlier this year, the UK Memory of the World aims to draw attention to historically-significant documents that often survive unnoticed.
Chairman David Dawson said: "We were incredibly impressed by the diversity and richness of the first nominations to the register.
"Given the UK's rich documentary history, I'm sure these winners are just the tip of the iceberg.
"We hope this will encourage more people to get involved with their local archives and museums."