Appeal for 'body in carpet' man after licence breach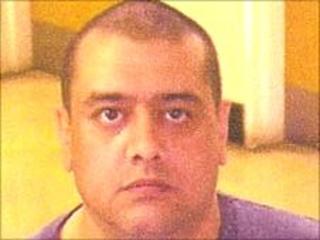 Police have appealed for a help locating a man who breached his licence after being released from prison.
Idris Ali, 45, went missing from the Swansea area on Saturday, where he was last seen at his home.
Ali was jailed for five years in the 1990s for his part in the killing of a schoolgirl in Cardiff in a case that became known as the "body in the carpet" murder.
Officers have advised members of the public not to approach him.
Ali was originally convicted along with Alan Charlton of murdering Karen Price, 15, in 1981 after her body was discovered in a carpet in the back garden of flats in Cardiff in 1989.
Ali's sentence was reduced to manslaughter in 1994 and he was freed, but later was imprisoned for other offences, including 12 years for his part in a prison riot.
South Wales Police believe Ali has connections in Swansea and Cardiff, but said he could be anywhere in south Wales.
Anyone with information is asked to contact South Wales Police on 101 or Crimestoppers on 0800 555111.