Parents 'struggle to find holiday childcare'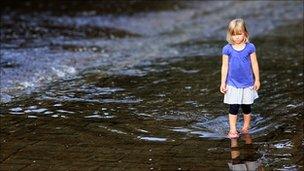 Many parents in Britain are struggling to find childcare for their children over the summer holidays, a survey by the Daycare Trust suggests.
The trust found 60 of the 150 Family Information Services (FIS) in England had parents reporting a lack of care.
In Wales, 10 of the 21 FIS said parents faced a shortage of holiday childcare.
The situation in Scotland was slightly better, with 6 of the 31 Childcare Information Services (CIS) saying parents were struggling to find cover.
Regions in England reporting particularly high levels of holiday childcare shortages included the South East, the West Midlands and the North East.
The Daycare Trust also found the average cost of a week's childcare for one child was £93.
But parents faced differing bills for holiday childcare, depending on where they lived.
In the West Midlands, the typical weekly cost was £79.02, whereas in the South East it was £105.74.
In Wales the average cost was £80.25 and in Scotland it was £100.38.
In response to its questionnaire to 202 information services, the Daycare Trust received responses from 96 FIS in England, 15 in Wales and 21 in Scotland.
Chief Executive of Daycare Trust Alison Garnham said there was a "gaping hole" in holiday childcare provision which would get worse with the impact of local authority spending cuts.
"Where provision is available, parents are being expected to shell out the equivalent cost of a family holiday abroad over the course of the summer - simply for the privilege of having their children looked after so that they can attend work.
"If the government are serious about getting parents into employment then they must take a comprehensive approach to investing in more holiday and wraparound childcare, whilst ensuring tax credits really do 'make work pay', so that affordable, accessible, quality childcare is available in every community, for every child.
"The recent changes to tax credits mean that many working parents will in future receive less help with childcare costs - this is a seriously bad move and means more help is needed to make childcare more affordable."
Below is a selection of your comments
Related Internet Links
The BBC is not responsible for the content of external sites.