Investigation starts into death at Cotswold Water Park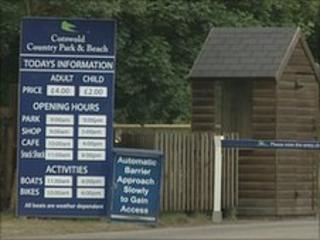 Police and health and safety officials have begun a joint inquiry following the death of a 15-year-old girl at a water attraction in the Cotswolds.
The teenager from west London was pulled from a lake at Cotswold Water Park on Sunday and died later.
Witnesses to the incident have told the BBC that they did not think Watermark, the firm which operates the attraction, had enough staff at the scene.
Watermark said full safety procedures were in place.
Watermark says the girl, who has not been named but came from Feltham, was pulled from an area of water three feet deep off an artificial beach at the park.
'Place was packed'
A member of the public spotted her body and resuscitation was tried by a lifeguard at the lake and visitors who were off-duty medics.
She died on Monday in hospital in Swindon.
Clare Bishop, of Bradley Stoke, who witnessed the scene, said it had been "traumatic" and there was panic as no members of staff seemed to appear to take charge of the situation.
"The place was packed and I saw no staff members other than the lifeguard.
"I had to call the ambulance and then I stayed on the line for 26 minutes to guide them to the Park.
"When they arrived, my husband and another man had to lift the barrier for them to get to the scene. It was tough for them to get through, no-one knew what was going on and people were just dotted around having barbecues."
Space to land
Pat Nicholas, of Stoke Gifford, who was with Mrs Bishop's party, said: "There should've been a path cleared for the ambulance to reach the lake and for the helicopter [air ambulance] to land. Every second was crucial."
The air ambulance landed 10 minutes from the park, the women claimed.
Watermark's operations manager Adrian Davey expressed his sympathy but told BBC West: "There was a full process in place on the site."
In a statement, the company said four lifeguards, two off-duty lifeguards and two managers had been on site to deal with the situation.
"Three uniformed lifeguards quickly resumed their posts, ensuring the safety of other visitors," it said.
"They decided against a mass evacuation of the bathing area, which would have caused confusion and panic and hampered the arrival of the emergency services.
"Two off-duty lifeguards, who were spending their day off at the beach, also assisted."
"Although there is no helipad at the beach, there was sufficient space for the air ambulance to land.
"We believe the pilot may have taken the decision to land well away from where members of the public might be, in accordance with protocol."
Cotswold District Council said its health and safety enforcement officers were investigating the incident with the police.
The park straddles the Gloucestershire-Wiltshire border near Cirencester.