Prince Harry visits Midhurst 'superdog' charity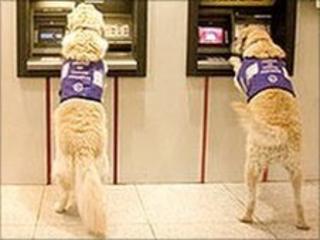 Prince Harry got a first-hand glimpse of "superdogs" which carry out everyday chores on behalf of disabled people during a visit to West Sussex.
The prince watched puppies being trained to help wounded military personnel and civilians carry out routine activities.
He also saw fully trained dogs in action at Canine Partners in Midhurst.
Their skills include removing clothes from washing machines and calling lifts for people in wheelchairs.
Pressing buttons
The prince even played an active part, allowing one of the dogs to remove a glove from his hand.
Harry and his brother, Prince William, are supporters of Forces charity Help for Heroes, which helps injured service personnel who are rehabilitated at Headley Court in Surrey, with which Canine Partners works closely.
A spokesman for the organisation said: "The dogs are carefully matched to the applicant's needs and lifestyle, no matter how challenging.
"They are trained to help with everyday tasks such as opening and shutting doors, unloading the washing machine, picking up dropped items, pressing buttons and switches and getting help in an emergency.
"The charity aims to train dogs to meet the needs of people with even the most complex disabilities, including members of the Armed Forces."
As Prince Harry headed for his next function in London, charity staff praised his interest in their work. "He really mucked in. He was absolutely fantastic," said a spokesman.