Broccoli chemical 'fights' cancer, Norfolk study claims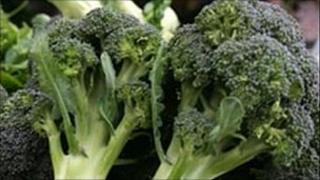 More evidence that broccoli contains elements which can help fight prostate cancer has been published in a new study by scientists in Norfolk.
The Institute of Food at Norwich has found broccoli contains sulforaphane, a chemical that boosts cells lacking an anti-tumour gene called PTEN.
When PTEN is de-activated or weakened prostate cancer can spread.
In tests on human prostate tissue and mice sulforaphane suppressed cells with potential to become cancerous.
"The cells became less competitive," Richard Mithen, from the Institute of Food Research at Norwich, said.
"PTEN is a tumour suppressor gene, the deletion or inactivation of which can initiate prostate cancer development and enhance the probability of its progression.
"We've shown that sulforaphane has different effects depending on whether the PTEN gene is present."
Researchers found that in cells which contained PTEN, dietary intervention with sulforaphane has no effect on the development of cancer.
In cells that do not have the gene sulforaphane causes them to become less competitive.
This provides an explanation of how consuming broccoli can reduce the risk of prostate cancer incidence and progression, Mr Mithen claimed.
"This also suggests potential therapeutic applications of sulforaphane and related compounds," he said.