Israeli embassy Gaza protesters have sentences cut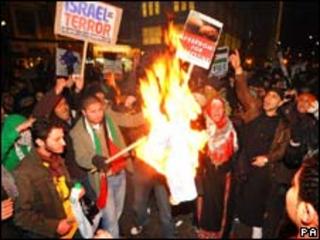 Seven protesters arrested after a demonstration in London against Israel's invasion of Gaza have won cuts in their sentences of up to 18 months.
More than 100 people were arrested after missiles were thrown at police outside the Israeli embassy last year.
The Appeal Court refused to reduce the sentences of three others.
A total of 78 protesters were charged, mostly with violent disorder, and jail terms handed out so far range from eight months to two-and-a-half years.
Nine of the protesters who appealed against their sentences were from London and one from Wakefield, West Yorkshire.
During the hearing at the Court of Appeal Joel Bennathan QC, representing six of the applicants, argued that compared to other disturbances - such as the Bradford race riots in 2001 - the Gaza protest was "far, far down the scale".
He said: "These applicants accept that they did wrong and accept inevitably that punishment will follow, and yet there is a comparison to be drawn."
Lord Justice Thomas, sitting in London with Mrs Justice Rafferty and Mr Justice Bean, allowed sentence appeals brought by some of the demonstrators.
But he said: "Those who engage in violence of this kind must go into custody.
"If you look at the videos they are all throwing things or getting at the police. How is that less serious [than the previous incidents]?"
It was an attack on officers who were performing an important duty of the state, he added.
Of the sentences, Lord Justice Thomas said: "The deterrence in this case is to stop people attacking the police who are simply doing their job."
"They cannot be dealt with by community sentences."
A picket outside the Court of Appeal before proceedings began was organised by the Stop the War Coalition, CND, Palestine Solidarity Campaign, British Muslim Initiative and the Palestine Forum of Britain.
Qassir Tamuri, 19, of east London, had his 30-month term cut to 12 months
Asim Alhaddad, 24, of north-west London, had his two-year sentence reduced to 21 months
Mustafa Hassan, 19, of west London, had his term cut from 18 months to 10 months
Mohammed El-Araj, 20, of west London, had his two-year term replaced with an 18-month sentence
Sid-Ali Zenaf, 20, of east London, had his two-year sentence cut to 18 months
Mosab Al-Ani, 22, of West Yorkshire, had his 12-month sentence quashed and replaced with a community order of 12 months
Mahamoud Farhan Ali, 19, west London, had his 18 month-sentence reduced to 10 months
Andris Feodorovs, 30, of east London, Abdul Samad, 23, of west London, and Sayed Rizvi, 19, of south-west London, failed in their appeal bids