Minister says weather 'will not hit' school figures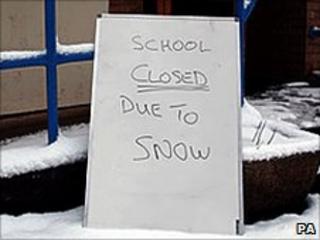 Education Minister Leighton Andrews says in future pupils who fail to attend school due to bad weather will not impact on attendance statistics.
Mr Andrews says headteachers are driven to close schools in poor weather due to a "perverse incentive" to protect attendance performance statistics.
He said bad weather this year led some schools to close for up to two weeks.
As a result, most pupils in Wales will not have the number of days schooling they should receive in law, he said.
In a statement to AMs, he said: "There has been widespread concern about the impact on pupils' education. Lessons must be learned. I have therefore considered what might be done differently and better.
"I am concerned that our existing policy on school attendance statistics might encourage heads to close schools.
"All schools should aim for high attendance but our system for recording school attendance statistics could have the unintended consequence that if a school stayed open in bad weather and pupils did not attend, the school's attendance statistic would be hit because no allowance was made for poor attendance caused by the weather.
Training days
"Performance statistics are an important part of an effective education system but I do not want schools to be shut, and pupils' education curtailed, in order to protect a statistic.
"I want head teachers to be able to make decisions about whether to close a school on the basis of an assessment of the conditions; whether the premises are safe; whether staff can get to work; and whether pupils and staff can get home.
"What is best for a statistic should not be part of the decision."
Mr Andrews also indicated that he would reduce teachers in-service training days if there was further bad weather in the coming winter.
He added: "I have also considered whether we could request that teachers unable to get to their own school should attend their nearest school.
"This raises issues which are governed by the National Agreement and the School Teachers' Pay and Conditions Document and I would wish to discuss these issues further with the teaching unions."