China Green Dam web filter teams 'face funding crisis'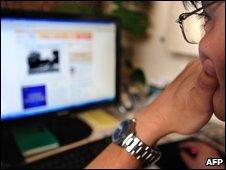 Reports from China say a controversial government-backed software project to filter internet content could be on the brink of collapse.
State media said the developer behind the Green Dam Youth Escort software had closed its Beijing project team because of a lack of government funding.
Its partner in Henan said without funding, its team would soon close too.
China had insisted all computers be equipped with the software, but scaled back plans after censorship complaints.
The Chinese authorities announced last year that all computers sold in China would have to have the software pre-installed from 1 July 2009.
Officials said it would filter out pornographic or violent material, but critics complained that it could also be used to stop Chinese internet users searching for politically sensitive information.
Opponents also raised questions about the apparent monopoly enjoyed by the software providers.
The roll-out was delayed amid strong domestic and international opposition, and officials later said that using the software was optional.
In the end, the Green Dam software was only installed in 20 million computers in internet cafes and schools, state media said.
Now, according to the Beijing Times, the project team from developer Beijing Dazheng Human Language Technology Academy has shut down.
The installation and aftercare team from Zhengzhou Jinhui Computer System Engineering, in Henan province, also faced closure, the daily reported.
This was because government funding only covered a one-year period from 2008 to 2009 and there had been no subsequent funding, the daily said, citing Chen Xiaomeng, general manager for the developer.
According to Mr Chen, requests to the government for more funding had generated no response.
There has been no official comment on the issue from the Chinese authorities, who correspondents say may feel they lost face in the row.
Apart from funding, the Green Dam project has faced a number of problems.
In January a US company filed a $2.2bn (£1.4bn) lawsuit in the US accusing Beijing of stealing lines of code from its internet filtering software for Green Dam. It is suing the Chinese government, two Chinese firms and seven PC makers.
Analysts also said that Green Dam had weaknesses in its URL, text and image filtering system and vulnerabilities in the software that made machines susceptible to being hijacked.
Related Internet Links
The BBC is not responsible for the content of external sites.