Dearne Valley Foods factory fire threat to 200 jobs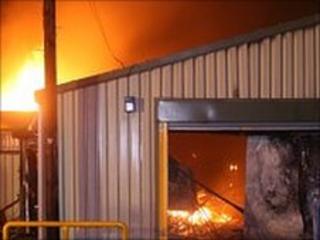 Nearly 200 workers at a food company in South Yorkshire are facing an uncertain future after their factory burnt down.
Forty-five firefighters spent the night tackling the blaze at Dearne Valley Foods in Thurnscoe near Doncaster.
Thirty workers who were on shift at the time got out safely as firefighters fought to stop the flames reaching two 10,000-litre containers of oil.
The plant, which makes prepared foods including scotch eggs and sandwiches, suffered 80% damage, fire chiefs said.
A Dearne Valley Foods spokesman said: "'Today we have spoken to employees, customers and suppliers.
"We are currently assessing the damage caused by the fire. We will brief our employees first when we know how we plan to move forward from here."
'Just devastated'
South Yorkshire Fire Service said the fire was believed to have started in a fat fryer, but an investigation was under way to establish the exact cause.
The company has told workers it will try to resume some production later on Tuesday at a smaller neighbouring site.
Employee Neil Dale, who has worked at Dearne Valley Foods for almost two years, said: "I'm just devastated.
"We've heard word it could be four months before they're up and running again but at the moment it's just hearsay.
"We've just got to stand our ground and wait and see what happens."