Drink and drug-driving falls in Scottish crackdown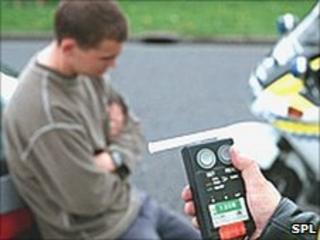 The number of drink and drug-drivers caught by police has fallen in the first week of a national campaign.
Officers have reported 96 people since Monday 5 July, down by 26 on last year's figure of 122 for the same seven-day period.
Four repeat offenders were detected and courts will consider whether to seize their vehicles.
During the week officers also targeted seatbelt offences, with a total of 614 people being detected.
The annual summer safety campaign, which ends this Sunday, is co-ordinated by the Association of Chief Police Officers in Scotland (Acpos).
Ch Supt Brian Anderson of Dumfries and Galloway Police, who leads on drink and drug driving for Acpos, said: "I am encouraged by these figures as any reduction is welcome.
"But they are certainly no cause for celebration, as drivers are continuing to disregard the safety of other road users and themselves by driving whilst unfit to do so."
He said there had been encouraging support from members of the public reporting suspects to the police.
"Figures were collated this year as to how these offences are reported and over a fifth of all persons charged were detected as a result of a member of the public contacting the police," he added.