India cricketer MS Dhoni signs huge endorsement deal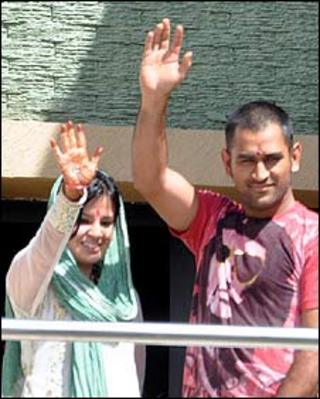 Newly-married Indian cricket captain MS Dhoni has signed what correspondents say is the biggest marketing deal ever made by an Indian sportsman.
The deal with the sports management company Rhiti Sports is worth $42m over two years, reports say.
The company will handle his endorsements, merchandise, advertising rights, digital rights and his appearances on social networking sites.
Dhoni was married earlier this month and celebrated his 29th birthday.
"We signed the contract a week back. From now onwards we will be handling Dhoni's endorsements," Rhiti general manager Sanjay Pandey told the Press Trust of India news agency.
The deal surpasses that made made by batsman Sachin Tendulkar with sports management firm Iconix - worth $40m over three years from 2006.
The Indian cricket captain was acclaimed throughout the country for winning the first ICC Twenty20 World Cup trophy in 2007.
Often described as India's most eligible bachelor, he married his childhood sweetheart Sakshi Singh Rawat at a private ceremony outside the northern town of Dehradun last week.
He is currently reported to endorse about 22 leading brands, including Pepsi, Reebok, Aircel, Godrej and Hersheys.
A Forbes study last year said that Dhoni was the world's richest cricketer with annual earnings of $10m, followed by Tendulkar at $8m.