UK inflation rate slows again in June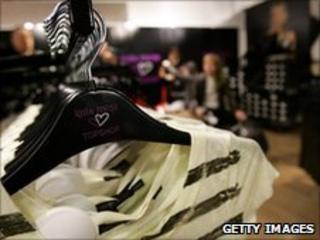 UK inflation slowed for a second month in June, to 3.2% from 3.4% in May.
But the rise in the Consumer Prices Index (CPI) is still well above the Bank of England's 2% target, the Office for National Statistics said.
Meanwhile, Andrew Sentance, a member of the Bank's Monetary Policy Committee, called for a gradual raising of interest rates.
He was the only member to vote for a rate rise at the Committee's last meeting.
The Retail Prices Index (RPI) inflation measure also fell to 5% from 5.1% May.
The RPI measure includes housing costs and is widely used in pay talks.
Hawkish speech
Falling clothes prices and fuel prices helped weigh the headline inflation rate down.
However, CPI inflation has remained above the Bank of England's 2% target since December and peaked at 3.7% in April.
"One obvious reason for this.. is the weakness of the pound," said Mr Sentance in his speech to the Thames Valley Chambers of Commerce, noting that sterling has been been the weakest currency in the G20.
He claimed that loose monetary policy had contributed to this weakness, which in turn pushed up the cost of imports and stoked inflation.
Looking forward, he called for a gradual raising of interest rates as the economy continues to recover.
"In my experience, recoveries have momentum," he said. "This process of gradual healing and recovery is likely to continue in the absence of big negative shocks which could derail growth."
Worrying trend
The CPI figure was slightly above expectations of 3.1%, and the pound jumped one cent against the dollar to $1.51 on the news.
Sterling then rose a further half cent following Mr Sentance's speech.
More worryingly, core inflation - which ignores volatile energy and food prices - rose from 2.9% to 3.1%, equalling its highest level since records began in 1997.
The accelerating core inflation suggests that the longer term trend direction of inflation may in fact still be upwards.
A major factor behind this was the rising cost of services, which accelerated to 3.9% from 3.4% in May.
The recent spike in inflation had been driven by the VAT rise back to 17.5%, the weak pound and the recovery in commodity prices, among other factors.
Moreover, a further rise in VAT to 20% will temporarily bolster prices again in January.
The Bank of England has been assuming that inflation will return to its 2% target over coming months, as the effects of the government budget cuts kick in and the pound stabilises.