Microsoft announces Windows tablet PC plans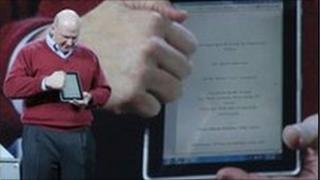 Tablet devices which run the Windows 7 operating system will launch in the coming months, according to Microsoft chief executive Steve Ballmer.
Asus, Dell, Samsung, Toshiba, and Sony are among the manufacturers working on Windows slate PCs, he told delegates at a company conference.
Mr Ballmer said the area was "terribly important" to Microsoft, but did not mention any specific release dates.
Apple's iPad touch-screen device sold 3 million units within 80 days of launch.
"This year, one of the most important things that we will do in the smart device category is really push forward with Windows 7-based slates," Mr Ballmer said at the firm's annual World Partner Conference.
The devices will come in various forms, some dockable and some with keyboards, he added.
In April 2010, Microsoft shelved development of the Courier, a dual-screen tablet device, and rumours have swirled about the future of HP's slate, which was revealed by Steve Ballmer at technology fair CES in January 2010.
The device has not been brought to market, but Mr Ballmer did name HP as one of the manufacturers working with Microsoft on Windows tablet devices.
Cloud looming
Tim Danton, editor on PC Pro magazine, said that the challenge for Microsoft in the tablet market was that the Windows operating systems were not designed for a touch screen format.
"They are fundamentally built for a mouse and keyboard - trying to develop everything for touch is very different," he said.
"Windows 7 has some touch functionality, but it is still not a core part of the operating system. Microsoft would be better looking at its Windows 7 phone operating system and using that."
Mr Ballmer also said that cloud computing, in which devices use internet-based programmes and storage rather than hardware, is a priority for Microsoft.
"We are at an inflection point in technology history," he said.
"For customers, cloud computing creates tremendous value, which translates to massive opportunity for Microsoft and its partners."
Robert Wahbe, Microsoft's Vice President, Servers and Tools, wrote in a blog post that the firm was "investing deeply" in cloud computers with products such as Windows Azure, a cloud-based platform.
However, while some market analysts are predicting that the area will continue to grow in terms of popularity and investment, others are more cautious.
"The amount of cloud computing is quite small at the moment, so even if it does double that is not such a big deal", said analyst Laurent Lachal at rival research firm Ovum.