Derry rioting 'among worst in decade'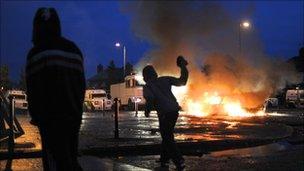 Rioting in the Bogside on Monday night and Tuesday morning was among "the worst in a decade", police have said.
A masked gunman fired shots at police in Londonderry shortly after 0100 BST on Tuesday.
Petrol bombs were thrown at a police patrol car which was on fire when a gunman appeared and fired five shots at the vehicle from a handgun.
Chief Inspector Nick McCaw said he believed dissident republican were behind the attacks.
"Gunmen were skulking around in the shadows of this orchestrated campaign by dissident republicans in the city and we're lucky that we are not sitting here today talking about fatalities," he said.
"I would call on the community to out these people who were involved in these attacks, to out the gunman who was involved in this attempted murder of police officers, so we can make arrests and bring them before the courts."
Police said they were treating the attacks as attempted murder.
No-one was injured and the gunman ran off.
A petrol bomb was also thrown at a passing van.
Sinn Fein MLA and Policing Board member Martina Anderson said the attacks needed to stop.
"There were 40 to 60 petrol bombs fired in our streets, last night in the Bogside," she said.
"There was a man who could have been seriously injured passing in a van. Then we had the shooting incident.
"We do not want that happening in the Bogside."
Foyle MP Mark Durkan said the incident showed that police should be worried about being lured into dangerous situations.
"If people don't want to listen to politicians like me, listen to the concerns and interest of the people of Derry who don't want any violence carried out anywhere in their name for any cause," he said.
"Clearly there was a set piece to this and it underlines the point that police do have to consider whether, responding to an incident, they are being set up for something worse."